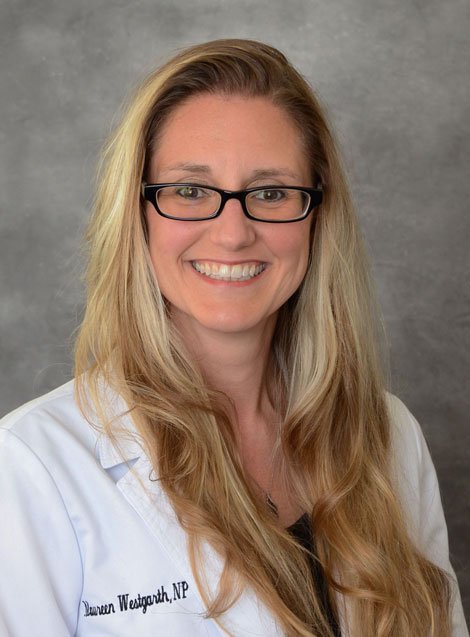 Maureen Westgarth is an ANCC board certified Family Nurse Practitioner.  She was born & raised in the Town of Niagara, a graduate of Niagara Wheatfield High School, now living in St. Catharines, Ontario.  Her college career began at Niagara County Community College, Erie Community College and then she moved on to D'Youville College.  She has achieved two associate's degrees, a bachelor's degree and a master's degree.
Maureen started her medical career as a Cardiology Technician at Mt. St. Mary's Hospital.  She moved on to the role of Registered Nurse on the Telemetry Unit.  She has also worked at Horizon Health Services as a Registered Nurse specializing in the Primary Care Medical Unit and Mental Health, Buffalo Heart Group as a Registered Nurse specializing in Cardiology as well as Our Lady of Peace Long Term Care Facility where she was a Nursing Supervisor.  She completed her Masters of Science in Nursing in 2012 earning her the title of Family Nurse Practitioner.  During an internship for this program, she came to precept with Dr. Orszulak.  Although her direction was headed towards Cardiology, she found a home at TMO Medical in Primary Care.  Maureen's compassion, kindness and understanding has been the perfect fit for Primary Care.
Maureen's career has progressed, as she has found a fascination in disease states that can be improved or resolved with weight loss.  Such disease states include but are not limited to: type 2 diabetes, hypertension, sleep apnea and heart disease.  This knowledge created a spark which led her to her passion for a healthy lifestyle.  In 2016, this lead Maureen to open a family business in Canada that helps to provide weight loss solutions to both Canadians and Americans.  This business is called ChiroThin which is offered to our American patients via a televisit.
Maureen is very family oriented and has a wide variety of hobbies which include, spending time with family & friends, quilting, watching her daughter dance and the martial arts.  She has mastered two black belts, one in Chun Kuk Do and the other in Tang So Do.  She enjoys travel and has been around the world, however her favorite vacation was her 2019 family trip to Disney World in Florida.
Maureen does have a future goal to complete her Doctorate of Nursing Practice (DNP) as well as the growth her family's weight loss business.